Sipi falls is main sightseeing spot in Kapchorwa district. Therefore Kapchorwa town is not so interesting for sightseeing. But there are nice view spots in town. I recommend to walk several kilometers short from town.
Photo of road to Kapchorwa
I introduce view spot in Kapchorwa town this time.
Recommendable view spot in Kapchorwa town
Scenery spot is located behind Kapchorwa hospital. The hospital is located on beginning of the town when you come from Sipi.

After this sign appears you turn left to unpaved road.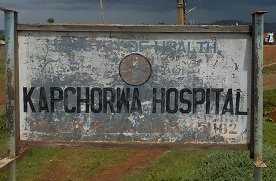 Go ahead to this gate.
You can find scenery place after several hundreds meters walk.
When I traveled, I could see falls from this spot.
Kapchorwa town's falls
I wanted to look close view of falls, so I kept walking to inner of town. I didn't think I was approaching to the falls, so I asked Ugandan people a place. Then child guided me to the falls.
I enjoyed short trip like as trekking.